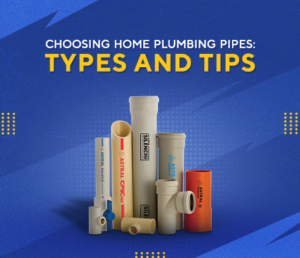 Plumbing pipes are essential components of a building's plumbing system, which is responsible for conveying water and other fluids in and out of the property. There are several types of plumbing pipes commonly used in homes. Some of the most common types and tips about them are as follows: CPVC...
Read More
Agriculture is an important industry and it relies majorly on an optimal water supply to remain functional. High-quality agriculture pipe & fittings play a huge role in ensuring regular and healthy crop yield. Astral Pipes, India's leading  agricultural water pipe manufacturer, offers a commendable range of agriculture pipes and respective fittings. The agriculture...
Read More
We all need access to running water for carrying out our daily routines. At times, municipalities fall short to supply the appropriate amounts and if you want enough water available all day, installing your own water storage tanks is the best option. Looking for the best water tank manufacturers for...
Read More