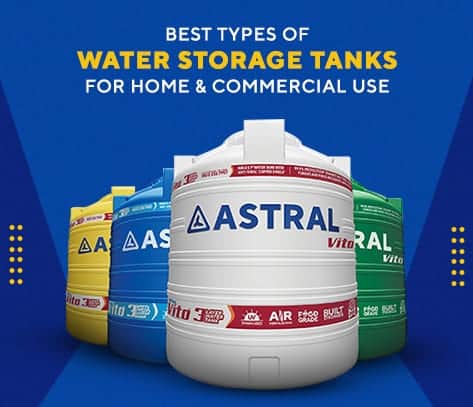 22 Jan 2022
What are the best types of Water Storage Tanks for home & commercial use?
We all need access to running water for carrying out our daily routines. At times, municipalities fall short to supply the appropriate amounts and if you want enough water available all day, installing your own water storage tanks is the best option.
Looking for the best water tank manufacturers for your water storage tank?
Explore Astral – one of the best water tank manufacturers in India! Whether you are intending to install a new water tank in your home or replace an old one, we have it all.
From our wide collection for both commercial and residential needs, choose the best water tank for you, making sure to find the one that meets your requirements.
Different products offer different shapes, sizes, quality, and functionality. Take a look at our collection before you choose from the best water tank in India.
Say goodbye to germs without the need for frequent deep cleaning with Astral's Cleo Water Tanks. These are equipped with active copper particles that stop the growth of harmful microbes like bacteria, viruses, fungi, and algae in your tank.
Vito is India's first water tank with an 'Anti-viral copper shield'. Equipped with anti-microbial technology to combat fungi, algae, bacteria, and viruses. With this innovative technology's active copper fortification, the water is always kept fresh, sanitary, and free of harmful microbes at all times.
Astral's Blow-Moulded water storage tanks have three layers, including a UV-stabilized outer layer, a carbon distribution middle layer, and an anti-bacterial/anti-microbial inner white layer to keep water pure and free from germs. The tanks are made with 100% virgin HDPE material, meeting food-grade standards. This water storage is an affordable, high-quality product with service assurance.
Astral's Sylo Water Tank has a black outer layer that prevents sunlight penetration and antimicrobial activities while providing strong UV resistance. The inner layer is white, and made from 100% food-grade material for easy inspection.
Sarita storage tanks are a top choice for customers seeking high-quality and reliable storage solutions. Made from 100% virgin food-grade material, these tanks are perfect for storing drinking water and other liquids safely and hygienically. Additionally, they are UV stabilized, offering excellent protection against harmful sun rays. The tanks also feature carbon components, providing extra strength and durability, ensuring that they will last for years to come.
Water is an essential resource that is vital for daily living, making a reliable water storage system a critical aspect of any household or industry. A water tank provides an effective means of storing water for use during times of scarcity or disruption in supply. Astral water storage tanks provide strength, durability, and safe water for usage. Given the importance of the resource, it is crucial to invest in a quality water tank that is built to last.
With Astral available on the market, finding the best water tank in India is easy. Astral is known for its exceptional manufacturing standards and its commitment to providing high-quality water tanks that meet the needs of Indian domestic and commercial needs. By choosing Astral, you can trust that your family will always have access to safe water, no matter what.
Are you searching for the most suitable types of pipes to pair with your water storage tanks? Check out our blog Choosing Home Plumbing Pipes: Types and Tips for Selecting the right piping for your needs.