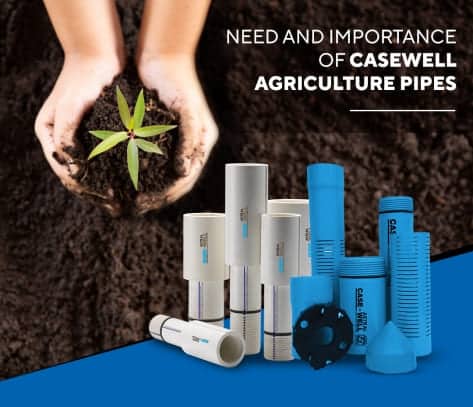 22 Jan 2022
Benefits Of Installing Casewell Agriculture Pipes Need and importance of Casewell Agriculture Pipes
Agriculture is an important industry and it relies majorly on an optimal water supply to remain functional. High-quality agriculture pipe & fittings play a huge role in ensuring regular and healthy crop yield. Astral Pipes, India's leading  agricultural water pipe manufacturer, offers a commendable range of agriculture pipes and respective fittings. The agriculture PVC water pipes help farmers source water from rivers and ponds to the farms. For added functionality, Astral also offers Casewell pipes that act as casing for borewell, providing extra protection.
Here, we take a look at the importance of installing Casewell agriculture pipes.
Casewell uPVC casing pipes are used as casing for bore-well which enhances durability and performance of the agriculture column pipes. These pipes help provide excellent protection even under the harshest of water conditions thus ensuring longevity of the system.
uPVC casewell pipes are tough and rigid while being extremely lightweight making it easier to distribute across large distances. Additionally, they are easy to work with and install as they do not break or get damaged easily.
Astral Pipes' casing pipes are better than conventional pipes as they are lightweight, corrosion free and long lasting. These pipes do not alter the water quality. Astral Case-well pipes are easy to install as the threaded ends ensure that the pipes can be interlocked without the use of cements or adhesives.
Astral's stringent quality assurance approach across all stages of manufacturing gives the product a high degree of reliability making Astral Case-Well pipes a preferred choice for farmers across the country.
The production of all agricultural pipes by India's leading agricultural water pipe manufacturer, Astral Pipes, conforms to the highest industry standards and benchmarks for superior performance. These pipes are available in screen or slotted types and are used for casing in ground-water percolation to allow water to enter inside the well. These pipes can also be used to recharge the ground-water level through the rain-water harvesting pit.
For more details, please click here.